Jon Bream, Star Tribune
June 18, 2005


Soul Asylum bassist Karl Mueller, a founding member of one of the Twin Cities' most popular and successful rock bands, died early Friday morning at his home in south Minneapolis. He was 41. (
more
)

I really got into Soul Asylum in the late 80's/early 90's. Their music helped me through a very tough time in my life. I even wrote the band a letter from treatment. Their manager wrote me back letting me know that he would pass my letter on to them when they got home from their tour. Along with the letter, he sent me all kinds of cool Soul Asylum schwag.
At my very lowest point, I used to tell people to play Endless Farewell at my funeral. Thankfully, my family was there to help me out of that terrible place. I wish more could have been done for Karl's cancer.
We'll miss you, Karl.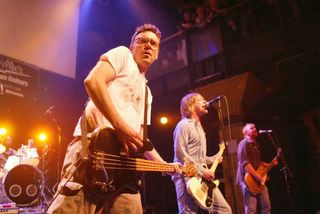 Endless Farewell / Soul Asylum / 1988
Rise and shine is your razor sharp?
Size up yourself in the mirror,
a slice of life, to last through all the years,
because sooner or later it all comes back to you,
and we will remember, the fine things you can do.
I'm giving back all the things that you gave to me.
I'm saving up the price to pay to be free.
Remember the first time you saw the rising sun?
You may be done but I've just begun.
The leaves are burning and the ashes have flown away.
I'm turning over new leaves almost every day.
You let him think you just as soon stay -
you let him think you had nothing to say.
now you want to just let you go away,
to find some mangled security,
some strangled form of purity,
to restore your faith and all the things you've come to hate.
You give and you take and you leave, leave it alone.
What I want so badly for this to be a place you can call home,
and I haven't felt this way since yesterday, but I don't remember when.
What I want so badly, to be someone you can call a friend,
till we meet again.
Endless Farewell.
Hello, Hello, Hello again.
Endless Farewell